Architectural Display Cases:
For the really serious collector, it might take a whole room to hold the collection -a room with both drawers and display cases installed. 'Installed' being the operative word here -drawers below and displays above. It's little more then bookcases above with cabinets below.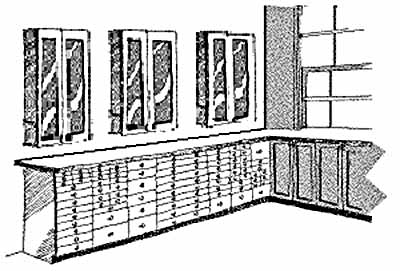 These cases are designed to match my Architectural Drawer Cases -the same 'footprints' and all. They are also usually the result of a custom effort. If you are considering such a thing, permit me to suggest the following:

Research:
#1 Read my articles on Custom Display Cabinets -Part I -DESIGN & Custom Display Cabinets -Part 2 -CONSTUCTION.
#2 Read my article Designing & Building Desks & Counters or at least look at the pictures.
#3 Read my article on Hiring Carpenters, take a cabinet-maker out to lunch, and ask a lot of questions.
Design:
A. Find a tape measure, measure your room and write it all down. Use a ruler and some graph paper. Open, print, cut out, and use my Design Work-Sheet. (You might do this before you take the wood-guy to lunch.)
B. Consider some of the extra features below in your thinking.
C. Schlep off to your local home-center store and sit down with the old boy / gal in the custom-cabinet department. Bring your sketch. Ask lots more questions. But keep track of the price asit adds up!
Implementation:
If you can get the people at your end to understand that you are not looking for cupboards that hold... well... hold cups, you might be well on the way to getting what your collection needs and deserves. If not, drop me an email and we will see what we can do.

Things will need to be installed at your end, and unless you can do this sort of thing yourself, you will need a local cabinet maker / installer to do it for you. He might as well make then too and save you the freight Display cases are nothing more then shallow cupboards with frames glass doors after all. BUT it is unlikely that your local guy will be as good as I am at shallow museum-type drawers. I is the bestest!
Happy to answer questions as it unfolds, and certainly happy to build you drawer or display cases. I'm also happy to do a little speculative, (free), design work, but not before you have taken some pains to get a grip on what you really want, and what's available at your end.
Bill
wharvey904@hotmail.com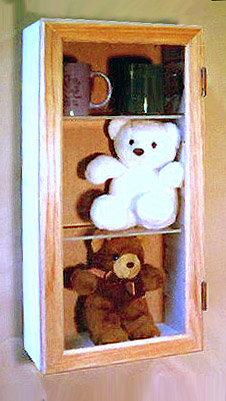 A given display can either lay its side -in landscape- or upright -in portrait. If you use one in the horizontal orientation, two interesting possibilities present themselves. First is to put the hinge at the top and dust is (largely) illuminated. The other possibility is to have me install a couple of drop chains and your shadow box becomes a drop-front-desk. A little one, and one that will not support much weight, but an interesting feature none-the-less.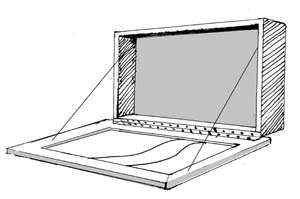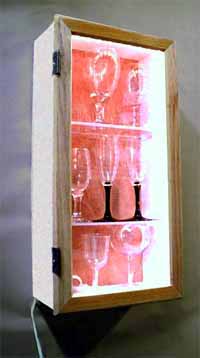 LIGHTS:
Display cases can also be fitted with lights. The lights are laid into the rabbit on the back of the door. This provides a wonderfully even luminosity throughout the case that literally high-lights your collection. For some collections, -say glass items- this is all but required. For some items though, the case lights are a tad garish and a spotlight or two on your ceiling might be the better way to go. Or, use the case-lights to really make your single most valuable item really stand out and then use remote lights for everything else. Lights run $30 to $50, depending on the size of the case. I might mention that it's difficult (expensive.) to do display cases with both a light and lock, but it can be done.
For larger single items, a single light in the top of the case might serve best. But the heat these generate MUST go somewhere and this means that there must be an open space above.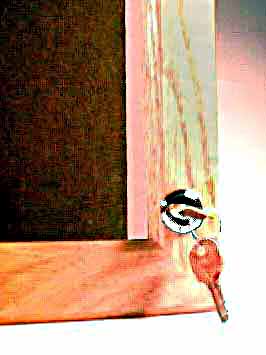 LOCKS:
Any of the display cases can be fitted with a lock and key. Please do not expect these cases and locks to prevent a really determined thief from getting at your stuff. Remember -locks really only keep the honest people out. And maybe granddads. Locks are keyed alike so a single key will open all of your cases. A less expensive option is to have me fit a polished brass hasp on the side of the case and send along a small padlock.

SHELVES:
For the collection of smaller items, display shelves might be just the ticket to group similar items together in the same large display cases. I can either permanently install the shelves if you know exactly where you want them, or I can drill the side of the case to hold little brass pins and you can fiddle with the shelves till you get them exactly the way you want them.
Shelves come either as crystal clear acrylic, (with a frosted edge), or finished solid oak, oak being the stronger of the two. If you plan to go with adjustable shelves in acrylic, you ought not go with anything longer then 18" inches –especially if your collection is heavy. The shelves sag.
On the other hand, if you have me permanently install them, I can solve this problem. Or if you are handy, you can drive a small screw through the back of the case yourself and get there after you have decided where you want the shelves.

BACKING:
Let me take just a minute to discuss hanging these case on the wall. I do not make provision for you to hang them. I can't. There are too many variables in the size of the box, the weight (and value) of your collection. Finally, there is the matter of your walls -what they are made out of etc. What I do do, thought, is offer some advice on the RIGHT WAY to Hang Things on a Wall.
So probably what will happen is that you -or your carpenter, (and if you don't have such a person handy, check out my advice on How to Hire Carpenters), will drive some sort of screw or fastener through the back of the case. Might be that you can live with the fasteners showing. Might be that your items will cover these fasteners up in a satisfactory manner. Or you might chose to cover the back of the case with matt board or fabric of your own design and choosing. Or -and needless to say- this is the expensive solution- I can make you an upholstered insert. Works like this -you pick the fabric color and I make the insert. You then hang the case and then slip the insert into place to cover the fasteners. If you are using shelves, you then add them and you are good-to-go. Or, if your collection is made-up of light-weight items, it might be that you are not using shelves and want to 'float' your items in the case. Simplicity itself! You simply "sew" your collection to the insert with mono-filament fishing-line or fine wire. (BUT -if I'm installing shelves permanently, we can NOT do inserts.)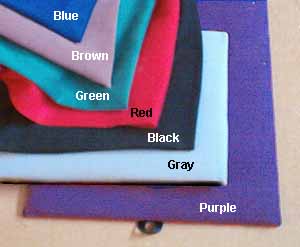 (Note the purple panel at the bottom and the little ribbon handle.)
A final possibility attains. If your collection is heavy and you want to do the floating thing, I can make the insert from peg-board and you can run your fishing-line or wire through the holes. Much more secure this way.
Check out my articles on Making Shadow Boxes and Riker Mounts Mk1 & Riker Mounts MK II to get a clearer idea of how this all might work for you and your collection.
Can't find the perfect display case for your stuff? Check out....
Shadow Boxes:
Variously sized shadow boxes that let you do it your way.
Riker / Museum Cases:
Part of a complete system to both store & display small collectables.
Doll Displays:
Simply the best way to both display and protect Barbie-sized dolls.
Jersey Cases:
Big flat shadow boxes to protect & display even the biggest athletic jerseys.
Document Mounts:
Got stuff you need other people to read? Use these small cases to get it out there, and protect it too.
...and don't miss these miscellaneous items for the collector:
Jewelry inserts:
They fit perfectly into my jewelry boxes and help you organize your jewelry.
Pen Inserts:
Sized like the jewelry inserts, but for pen & pencil collections:
Specimen Boxes:
A little like Riker-Mounts, but bigger and stouter. They display and protect larger items.
Finally, for the very best of your collection, consider...
Coffee or Sofa Display Tables.