Custom Coffee / Sofa Tables:
I take the view that all my work is furniture, some of it just a little bigger that fits in the middle of the room -rather then on the wall. And any case can be put on legs. A small drawer case on legs becomes an end table with drawers. A larger drawer case on legs becomes a chiffonier, (or some other such French word). A narrow display case on tall legs is a sofa table behind the couch, and wider display case on shorter legs becomes a coffee table in front of the couch.
The following allow varying degrees of customization. I don't make most of the legs and so we are kind'a stuck with the dimensions and wood species they provide me, but there is still a loty of latitude. The exception is the Hepplewhite legs. These I do make myself and if you can dream it up, I can (probably) make it.
Regardless of the style of leg you like, I can customize the foot-print (how big side-to-side and front-to-back), the size of the window, locks etc., and obviously the finish. Drawers under the display box are a possibility with many of the styles and secrete compartments for some. Each style lends itself to greater or lesser degrees of ornamentation, filigrees, and curly-ques. All-in-all, drop me a note and tell me what you want. And have a look at my Customer's Scrapbook to see what I've done for some other collectors.
Coffee tables are all custom work, so if you have questions, or a price, drop me an eMail at....
wharvey904@hotmail.com
Meantime, think of the following as a quick history lesson in furniture design.
Hepplewhite: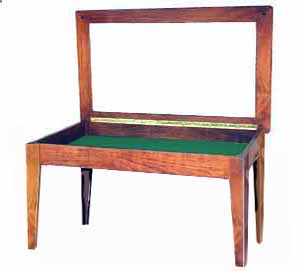 George Hepplewhite was one of the "big three" 18th-century English furniture designers -along with Chippendale and Sheraton. I use his name to describe my take on a simple rectilinear style, but I'm sure there are art professors out there who would take exception to my doing so. Can't be helped. I have to call it something. The simplicity of the Hepplewhite style makes it the easiest to customize. Makes nice sofa table and I often put Hepplewhite legs (with or without an apron) under drawer cases.
Figure a Hepplewhite in oak with a simple finish, padded insert for the bottom, and tempered glass window will run you about $600 before freight. It's shown in walnut with a medium stain.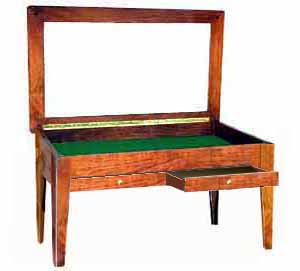 For drawers, figure about $50 - 100 each.

Farmhouse / Country Coffee table:
This design reflects the more robust esthetic of the English country side. French and American country-side too for that matter. Please notice that the lid's frame is wider then the cases above. This is to allow for the bigger block at the top of the legs of this more substantial design. (Consequently, the window is smaller.)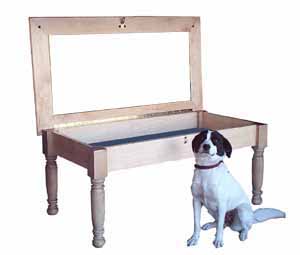 This style is also available as a sofa table. The case shown is maple with a clear poly finish. Runs about $550. (The dog is separately available.)

Shaker Style:
Everyone knows that the Shakers (a sub-set of the Quakers), are religious sect, and the Shaker Style is uniquely American, but did'ju know that it was Mother Ann Lee who brought it to America at about the same time Sheraton and Chippendale were doing their thing in England? Like the religion of simplicity and austerity, the Shaker style is simple, spare, and well made.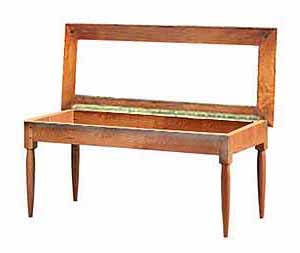 This coffee table is cherry w/ a light stain & lacquer finish. Would run about $600 as shown.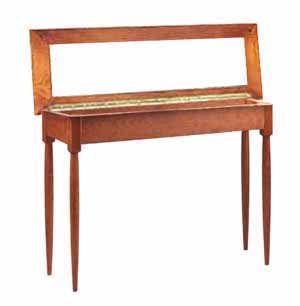 Sofa Table:
This is a simple elegant case. 30" tall and with an inside depth of 4 inches. It is available in your choice of wood and whatever size you need. You say you have great-great-grandpap's shooting iron somewhere about? I can make a sofa table long enough to hold it. I have actually made a case for a rifle w/ its bayonet fixed -about six feet long. (Consider having me install a lock if you have simillar dangerous things!)
Shown in cherry w/ a medium stain. Figure a sofa-table like this will run you about $650 in oak w/ tempered glass top. More in other species & / or with a lock.

Sheraton Style:
So what is this Sheraton style? In 25 words or less- it is a subset of the American FEDERALIST style and it's greatest adherents were Thomas Sheridan and George Hepplewhite, both of whom were English. The finest examples of Federalists architecture come to us from a Scottish architect named Robert Adam. All this went on from 1790 to 1830. Seems to me that America and the English were rather at odds with one another then, but what do I know? It's an elegant and graceful style. That's my story and I'm sticking to it.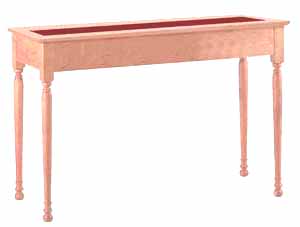 As shown, it's made from maple with a clear finish. This style is also available as a coffee table. Figure $550 for the coffee table and $600 for a sofa table.

William & Mary Coffee Table:
I'm a little fuzzy on my history, but you know those old boys in the black britches and funny hats with the buckles? The Pilgrims, and assorted other Protestants and Calvinists? I'm not sure, but this style always strikes me as what these folks had in their homes -or at least more trendy and stylish ones. This being so, the black finish is the most somber, sober, and appropriate -but it's entirely up to you. I can also put a shelf on the stretchers below.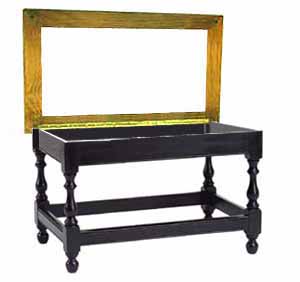 The case is ebonized maple, (flatted black lacquer), and the lid is oak with medium stain & clear top-coat. As shown, it would set you back $700. Lovely style, but the stretchers are a right pain in the butt. Be even more if I put a shelf underneath.

Cyma / Cabriole Coffee Table:
Now this is interesting. It turns out that Cabriole legs were a response to the tiresome need for stretcher bars between the legs of chairs etc. (Note the Willy & Mary table above.) They are actually the parent of Queen Ann style legs. I would have thought that they were a more modern style. Actually, this style is one of my personnel favorites. Clean and graceful style -I think it lends itself to a historic / period decor as well as a more modern or eclectic room.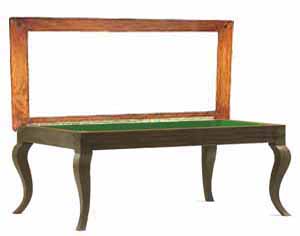 This style is also available as a sofa table. This case is also flatted black finish on the bottom, but the lid is cherry with an oil finish. As shown it would run about $550.

Queen Ann:
I've saved the best -and most complicated- for last. Seems you can't get away from English history, so lets get it done and done. We start w/ Charles I for no other reason then he was beheaded in 1649 and that began the English Revolution / Civil war. Cromwell and the Protestants turned things upside down until about 1669 when Charles -Ann's uncle- got to be king. He was followed by James II, Ann's father, and then came William & Mary -her sister and brother in law. Both of them were in charge from 1689 till 1694 and just Willy on till 1702, when Anne got to be queen. She stuck it out till 1714 and died the last Stuart to be monarch. No kids and all.
You say you are reading this in the hope of buying some furniture, not to get a history lesson? Right you are. Remember that the Cyma style was a response to the heavy (& may I say Puritan?) William & Maey style that used stretchers between the legs for strength. The Queen Ann style was another refinement, and a distinctly feminine one. Curving legs, carved shell shapes, pad feet and -a little later- claw feet. Walnut came to be popular -and swear-to-goodnesss- this is about the time folding card tables came along. All his about 100 years before the Sheraton, Chippendale, and Hepplewhite gang came along.
There are a few things you need to know about Queen Ann style.
First, her legs come in two styles, -with her knees showing and without.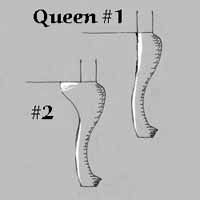 Second, she can be made with drawers but her legs need to be a little shorter then usual for a coffee table.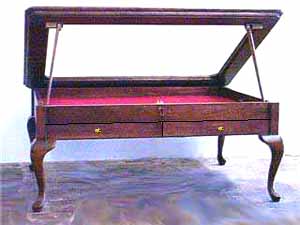 This is a huge coffee table a wife had me make for her husband and his knife collection. It's dark cherry and has 4 drawers -two on each side.
Ball & claw legs are available -with or without knees and with or without a carved crest on the knee, but technically, the carved do-dad makes it Chippendale.

Next, her legs lend themselves to a scroll-work case.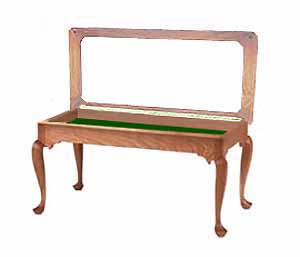 Finally, she is a little more expensive. The scroll-work one above runs about $800 and the simple one below is about $700. Drawers add $50 to $100 apiece.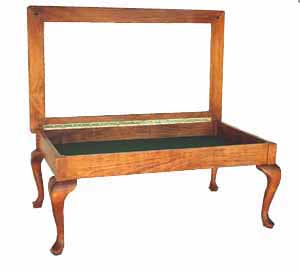 Once again, remember that coffee tables are custom work and we ain' t going to get you exactly what you want without some back-and-forthing, eMail wise. So let's get started. Drop me an eMail at....
wharvey904@hotmail.com

A FEW WORDS ABOUT SHIPPING:

I don't offer freight charges nor weights because every table is different. The price of fuel -and freight- goes up and down (but mostly up) every week or so. Shipping big things is -with out a doubt- one of the trickiest parts of my business, but I work it carefully. Here are some considerations:

I use common carriers to get these to your home.

I also crate them up pretty carefully. (You need, maybe, a new dog house?)

The cheapest way to get it to you is to get it to a business with a loading dock.

Next cheapest way is to get it to any-old business.

The most expensive way is to send it to your home in a truck with a lift-gate. This usually adds about $75.

The empty crates are often heavier then the table, so once it's out of the crate, it is pretty easy to move.

Usually, the customer (if he's a guy) and the driver (usually a guy) can lift it out of the back of the truck. (Note the use of the words "usually.")

Your cell phone # often makes it easier for all concerned at your end.

The drivers are usually (there's that word again) pretty dang nice and helpful. The companies they work for and most particularly their dispatchers, on the other hand....

If you have a carrier you like, please let me know and I'd be happy to try them out. There are some good local companies, but as for the national ones (or even worse -the internatinal ones), the less said, the best.