Disaply Cases for Sports JERSEYs:
These cases are specifically designed for athletic jerseys and the like. They are flatter and bigger then my other display cases, but -like all my cases, they are hinged to open or to stay carefully closed to protect your sports collectable.
They are painted in an elegant black to dramatically showcase whatever they contain, and then fade into the background there-after. The frame is American oak finished with a warm shellac. The 'window' is crystal-clear and tough acrylic. There is a polished brass hasp that can take a small padlock if you desire.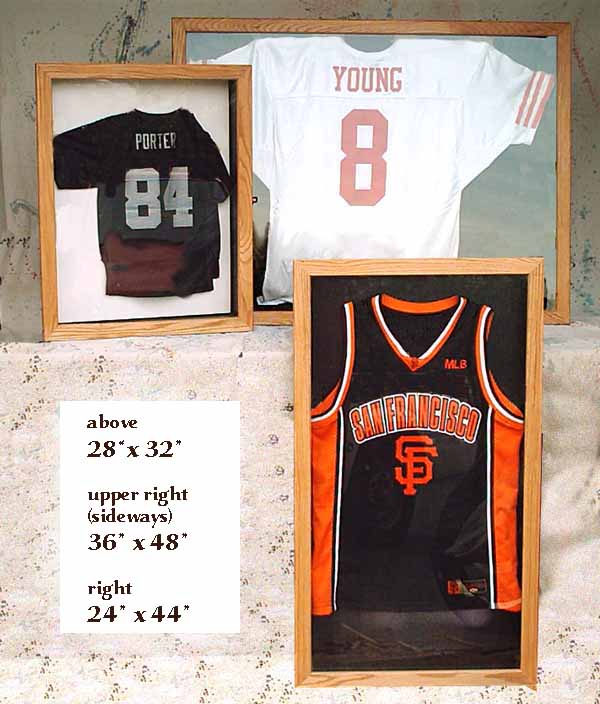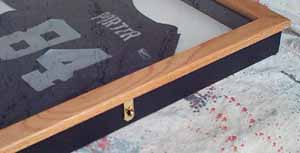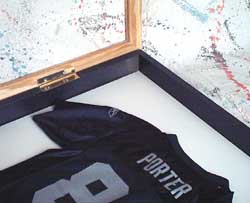 24

28

32

36

Case HEIGHT:

32

#32x24 Sport
(Shown: Small T-shirt)
$93.75
62 lbs*

#32x28 Sport $101.25
71 lbs*

#32x32 Sport $108.75
80 lbs*
If you need a case that is wider then it is tall, it is best to select a tall one, (i.e. -the 36x32) and then mount it sideways.

36


#36x24 Sport
$98.75
69 lbs*

#36x28 Sport
$107.50
79 lbs*

#36x32 Sport
$116.25
89 lbs*

#36x36 Sport
$123.75
99 lbs*

40


#40x24 Sport jersey case $105.00jersey case 76 lbs *

#40x28 Sport
Shown: X-large basketball jersey.
$113.75
87 lbs *

#40x32 Sport
$122.5
98 lbs*

#40x36 Sport
Shown: Large baseball -case sideways.
$132.50
5109 lbs*

44


#44x24 Sport
$110.00
83 lbs*
#44x28 Sport
$120.00
96 lbs*

#44x32 Sport
Shown: X-large football jersey -folded.
$130.00
107 lbs*

#44x36 Sport
$140.00
119 lbs *

48


#48x24 Sport
$116.25
93 lbs*

#48x28 Sport
$126.50
101 lbs*

#48x32 Sport
$137.5
107 lbs*

#48x36 Sport
Shown: Large football jersey -spread out -case sideways.
$148.75
119 lbs*
* NOTE: The cases don't really weigh this much , but UPS figures what they like to call "dimensional weight." Nary a thing I can do about it, and I have to warn you, the freight on these will surprise you -and not in the good way. Drop me an e-mail with your zip code and I'll get the price-du-jouir. Furthermore, no small part of the price has to do with the pain-in-the-butt of putting them in a crate that the UPS gorillas can't break. (And the CAN break anything they want to, all I can do is make it harder for them to do so.)
If you have any plans to drive through Colorado, we can tie an athletic jersey cases to the roof of your car and save you some money. Or order 5 or 10 and I'll put them in a crate and use a common carrier. Cheaper this way in the long run.
Can't find the perfect display case for your stuff? Check out....
Shadow Boxes:
Variously sized shadow boxes that let you do it your way.
Riker / Museum Cases:
Part of a complete system to both store & display small collectables.
Doll Displays:
Simply the best way to both display and protect Barbie-sized dolls.
Jersey Cases:
Big flat shadow boxes to protect & display even the biggest athletic jerseys.
Document Mounts:
Got stuff you need other people to read? Use these small cases to get it out there, and protect it too.
...and don't miss these miscellaneous items for the collector:
Jewelry inserts:
They fit perfectly into my jewelry boxes and help you organize your jewelry.
Pen Inserts:
Sized like the jewelry inserts, but for pen & pencil collections:
Specimen Boxes:
A little like Riker-Mounts, but bigger and stouter. They display and protect larger items.
Finally, for the very best of your collection, consider...
Coffee or Sofa Display Tables.