Display Coffee-Tables:
These cases are simplified coffee and sofa tables, -sort of display cases on legs. They are so adaptable that the terms 'coffee-table' and 'sofa-table' are perhaps too limiting. Just tell me what you need -how big the box needs to be and how high you want the legs -and it's yours. There are two or three ways to go about getting what you want:
First -a fully custom piece. Drop me an email and let me know what you need and we will come up with the perfect solution. You might have a look at the following to get an idea of what the possibilities are. Or you might consider a Period Coffee Table.

Second -a plain vanilla case from below. The window is acrylic, and the box is good-old-particle-board and primed in a subtle -fade into-the-background gray. (And ready fro you to paint yourself is this is what you want to do, or just leave it as-is.) The lid-frame and legs are solid hardwood for all of the above. The lid is attached with a piano-hinge, but the legs ship to your home unattached.

Third -somewhere in between the two previous -with various options & add-ons. Consider tempered glass instead of acrylic. Or maybe a padded insert. Or I can paint it for you. I can also make the case from your choice of hardwood plywood. Oak, mahogany, cherry, birch,or what ever. Finally, I can even mount a flat drawer under the case to sort of expand your collection's display area. See the bottom of the page for a picture of this sort of table.
Designing your own Display Coffee-Table:
Begin with the 'footprint' -length by width. Coffee tables, for example are often about 36" to 48" long and 20" to 24" deep. Then consider how high you want things, The coffee tables come 16" to 18." Sofa tables, are about the same length or slightly longer, say 36 - 60," but are usually a little narrower, 12" up to 16." They are also typically 30 inches high. (But you might want to measure the sofa they are to sit next to.)
How to use the following:
Here are some possibilities. Don't get locked into these numbers -they serve best to give you ideas as to sizes & prices. Too many interesting options and usefully what-if's we can work out together. Select a case that really suits. If it is sized like a coffee table or sofa table, it will look like a coffee table or a sofa table. Nothing wrong with that, but if it's sized perfectly for what it contains, the case isn't just a piece of furniture, -it's a showcase for whatever it holds.
The hinge is along the long side of the case. The dimensions given are overall. The inside -the display area- is about 4 inches smaller. The picture shows a finish hammer -about 14" long -to help you get an idea of the size. Best to pull out a tape measure.

12 x 32
$127, for tempered glass +$40, upholstered lining +$14, sofa-table height legs, + $15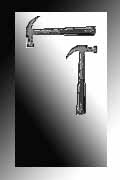 24 x 36
$156, for tempered glass +$40, for felt lining +$19, for sofa-table height legs +$15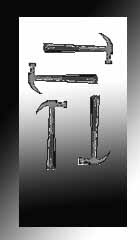 28 x 44
$216, for tempered glass +$55, for felt lining +$26. for sofa-table height legs +$15
Sample Prices:

Width
Height
12"
14"
16"
20"
24"
32"
$125
$132
*
*
*
36"
$130
$135
$140
*
*
40"
$140
$145
$150
$165
*
44"
*
$155
$160
$170
$175
48"
*
*
$175
$180
$190

* These are rather ext ream shapes -happy to make you either a long skinny one of a short fat one, but as a custom piece.
Padded inserts for the case are available in various primary colors. They lay on the 'floor' of the box. Or if you have a special fabric you like and send some to me and I'll use it. Liners are not actually necessary. It depends on what you are displaying. I had a customer that wanted to display her son's sea-shell collection and she poured a layer of sand into the box. It was perfect! Use your imagination.
Locks are also available. They can be either put in through the lid or the front of the case. Please understand that locks in a nice piece of wooden furniture serve only to keep the honest people out. If you need to protect something from the bad guys, you need welded steel.
Here are some possibilities -just to help your thinking:

This is a basic coffee table in gray primer. It is 44" long and 20" wide. (There are sizes both longer and wider.)

This table is also 44" x 20" but has a flat drawer added between the legs. Is was designed for a big sports fan. I primed it for him so he could paint it to match his teams colors. The top was to hold various souvenirs and the drawer was for references and stats.
Can't find the perfect display case for your stuff? Check out....
Shadow Boxes:
Variously sized shadow boxes that let you do it your way.
Riker / Museum Cases:
Part of a complete system to both store & display small collectibles.
Doll Displays:
Simply the best way to both display and protect Barbie-sized dolls.
Jersey Cases:
Big flat shadow boxes to protect & display even the biggest athletic jerseys.
Document Mounts:
Got stuff you need other people to read? Use these small cases to get it out there, and protect it too.
...and don't miss these miscellaneous items for the collector:
Jewelry inserts:
They fit perfectly into my jewelry boxes and help you organize your jewelry.
Pen Inserts:
Sized like the jewelry inserts, but for pen & pencil collections:
Specimen Boxes:
A little like Riker-Mounts, but bigger and stouter. They display and protect larger items.
Finally, for the very best of your collection, consider...
Coffee or Sofa Display Tables.