Customers' Scrap Book #4
Drawers for BEADS: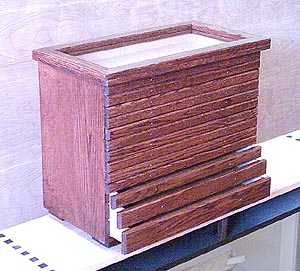 I built this custom case for Esther of Malibu CA. Esther is a beader and jewelry designer of the first stripe and both needs lots of drawers as well as a display for the special ones. Notice the top is glass allowing the top drawer to double as a display. It stands about 24: high, (a little more on simple pad feet), and just a little more then 24" wide. Oak w/ a dark mahogany stain. Notice the bottom three drawers are graduated to greater depths for bead paraphernalia. There are no knobs because Esther plans to do something in this direction herself. I'm thinking some pretty bead knobs?
Another Home for a Sea-Shell Collection: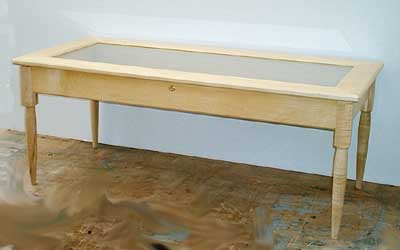 Seems this is not the first sea-shell coffee table I've done and not the first one in maple and the shaker style either. This is for Jackie's waterfront home on the Chesapeake in Maryland.
Swimming Medals: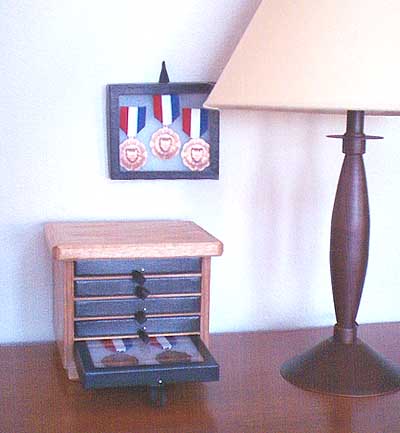 This is a prototype. I'm working on a series of what I am calling "Slide-In Riker Cases" If you have read many of my How-To articles, you know how much I like Riker-Mounts for collectors of every sort. This 'ticular proto-type went to one of my athletic nieces. (Poor kids -they only ever get wood things from their goofy uncle Billy. Can't be helped.)
Anyway, what we have here is a small case holding 5 small Riker mounts for her swimming medals -back-stroke mostly- with one on the wall. The cool thing is that the little ribbons handles can be used to hang them too. This way she can rotate them in and out and enjoy which ever set strikes her fancy that week.
Ed's Cuff-Link Collection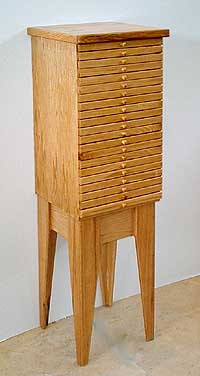 Ed from Virginia has what would seem to be a not inconsequential cuff-link collection. (Don't believe me? see below.) This case in modeled on my tall architectural case, but all oak. It's also mounted on a set of Heppelwhite legs with an apron. That's 21 drawers there & the whole thing stands 5 feet tall.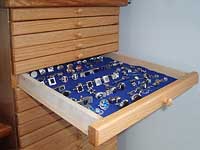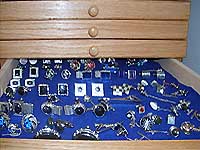 Jim David's Valuables: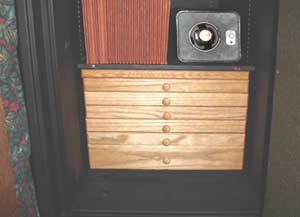 Here is another one of my cases in a safe. Just because things need to be tucked away from the bad-guys doesn't mean they don't also appreciate a little organization. Jim David of Oklahoma wanted one of my smallest architectural drawer-cases -what I call my 'file' case with 5 shallow drawers and one medium at the bottom and a simple trim lip at the top -all in oak. He tell me it fits perfectly in his safe and holds what were 8 or 10 smaller boxes of diamonds from Africa and gold dust & scrap.
Sue's Travel Goodies: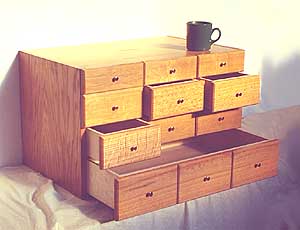 This (not so) little case is for Sue of California who needed it match another case I made for her some years back. Sue travels a lot and has all manner of little do-dads that plug into the walls all over the world and make electricity that American things eat. This case is to the all organized!
Something about me loves the idea of a drawer for everything and everything in its own drawer. One day I'll have to ponder the degree to which this makes me a little goofy. On the other hand, it does explain my chosen profession.
Doreen's Snuff Boxes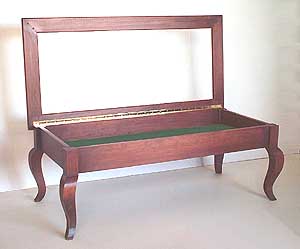 Doreen (from back-home in the Bay Area) collects snuff-boxes. Pretty little things made of silver and gold and glazed porcelain and I don't know what all. She decided she needed this HUGE coffee table to display her collection. Pretty thing -cherry cabriole legs and a hunter green lining.
And I tell a lie -it's not so much a pretty thing as it is a handsome thing. For one thing, It's too big to be a pretty little thing. And, to my eye anyway it has a 'strong' look about it.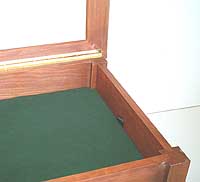 Tiffanie's Shadow-Box Art: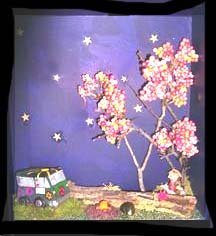 Nope, Can't say I understand it, but it is certainly compelling and this is -perhaps- the proper definition of art. It makes us ask WTF and then struggle to find our own answer. Tiffany ordered a pair of my shadow boxes to get a hold of / capture / contain her vision. Proud to have been a part of it for her. You can see more of her and her work at www.myspace.com/thejadebetty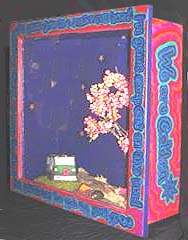 Painted Jersey Cases: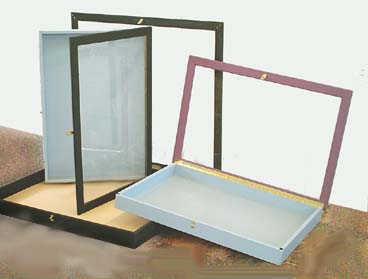 Seems odd that I've never done colored (painted) jersey cases, but it is so. Until now. Here we see a 36 x 40" jersey case all in black with an insert that my customer is going to use to mount some posters and then the jersey. Next are two at 24 x 36" in primer grey. One frame is flat black and t'other is purple.
Cherry Drawer-Case with a Display-Case Top: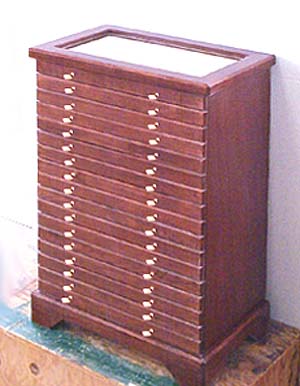 This case is for Gary in Redding, CA. It's for his collection of knives of all sorts. It combines some of the attributes of a display case with those of a drawer case. The top is fixed but Gary can slide any of the18 drawers in and out of the top position to show off whatever knives strikes his fancy at the time. (Sadly, for the time being, I show it with my less then inspiring collection of 'C' clamps.)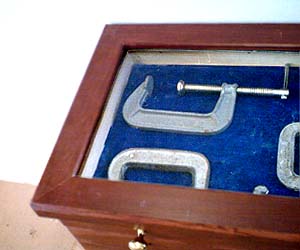 Dutch Orders in Riker-Mounts: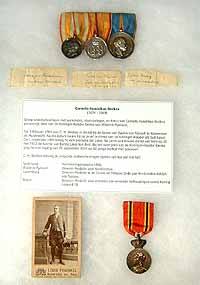 This collection belongs to Roel from the Netherlands. Not entirely sure, but I think 'orders' means about the same thing as 'medals'.
What I want you to pay attention to is that Roel has followed all my suggestions as to how to properly tell a story when Making a Shadow Box -even if it's not a shadow-box, but rather a Riker-Mount. Notice to the right he has three things going on. First is the actual thing -the medals or orders. Next, he has a label -in this case it's not only a label, but explanation. Finally, he has some documented proof of it all, the old photograph and yellowed and (we presume) equally old bits of paper. This is called 'attribution' in the world of serious antique people and adds a LOT of value to old stuff.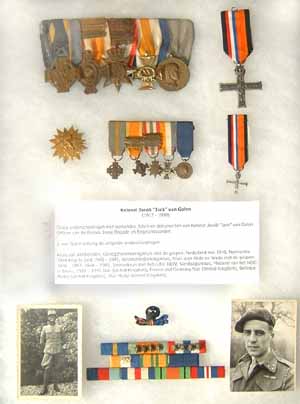 A Portable Jewelry Box for Trade shows: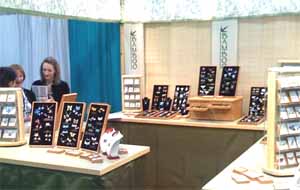 This case is solid oak, with cased drawers. Pretty little thing I think. Cal-Pac sells what they call bamboo jewelry -not actually made of bamboo, but Asian inspired. Evidently they are pretty successful -I'm making 4 more cases for them.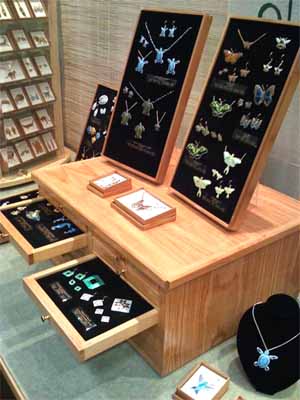 Customers' Scrap Book #4