Well, it's been fun, but I'm going out'a b'ness. I have some small amount of inventory I'm offering to my old customers at CRAZY low prices. (I want to see my work in good homes more then I want the money.) I have some shadow boxes, Riker frames, and a few real nice museum cases (the ones that hold Riker Mounts.)


Clearance Items:
Riker Frames: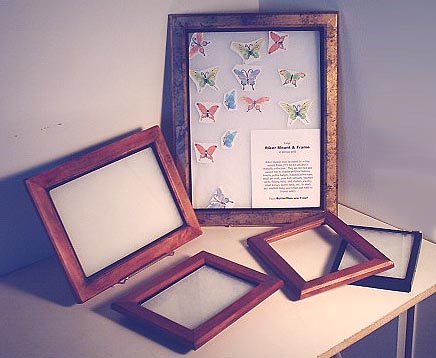 Riker frames are these wonderful inventions of some years back. I've simply taken then off the table and put them on the wall with a solid wood frame. There are hangers for either horizontal or vertical mounting. Here we have:
1 large 12 x 16" Riker mount in an antique gold frame $15.00 + shipping
(The paper butterflies are free !) (And they are shown in these shiny brass stands.)
1 medium 8 x 12" in cherry $12.00
2 smallish 6 x 8" also in cherry $10.00 each
Riker Museum Cases: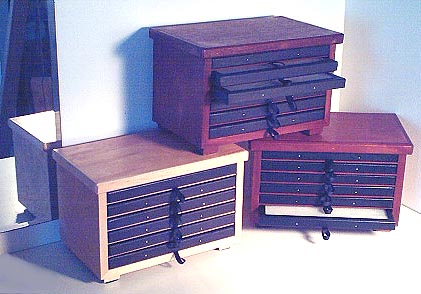 Short D-size Museum cases:
Each holds six 8 x 12" Riker mounts, (included). The 'drawer-pull' is a black ribbon loop that can also be used to hang it on the wall.
Mahogany SOLD
Maple -$75.00 -Please understand they are well made and stout. And heavy. Better be ready to pay as much as $30 for good old UPS -depending on where you live.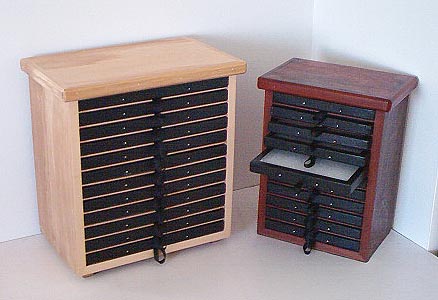 Tall D & C size:
left -Maple -includes twelve 8 x 12" Riker Mounts -SOLD
right -Mahogany -eleven 6 x 8" Rikers -$85.00 SOLD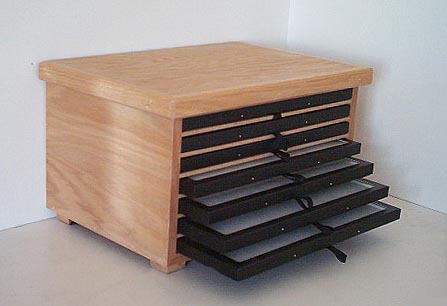 A big one -Natural Oak -comes with six 12 x 16" Rikers. -$125.00 SOLD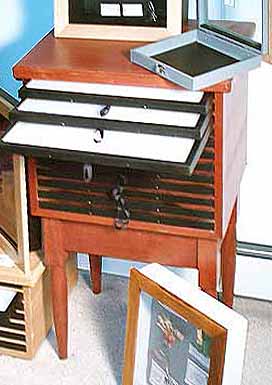 Cherry on Shaker-style legs and apron. It holds twelve 12 x 16" Rikers (included) This is fur nature and some knd'a stout. UPS will want $60 or so to get it to you.
SOLD
Shadow Boxes:
NOTE:
I invented a new hobby that involves fancy lying. It was for my booth at the local antique consignment store. Here, for example, you see a shadow box with Elvis Presley's blue-suede-shoe polish and the old fruit jar he used to keep his corn squeezin's.
The other one is a collection of movie memorabilia including Scarlet O'Hara's dried out radishes from Gone with the Wind, Robin William's lipstick from Mrs. Doubtfire and so forth. I'm happy to send either collection along with the shadow box.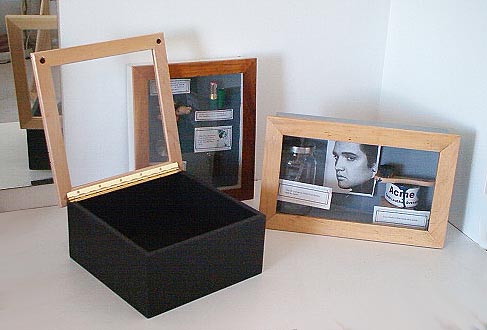 front -black w/ Maple frame 5 x 10 x 10" $12.00
back left (w/ movie memorabilia) white w/ Mahogany frame 2 x 10 x 12" & upholstered gray insert SOLD
right (w/ Elvis) gray w/ Maple frame 4 x 8 x 14" SOLD
Doll Display Cases: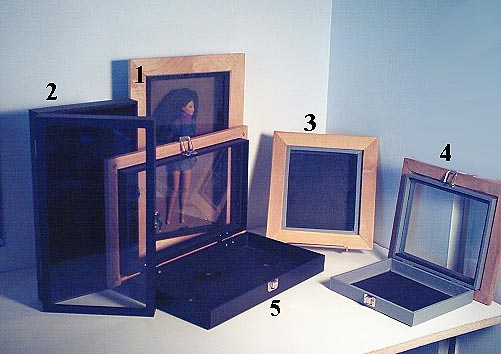 (For some How-To, see Doll Displays: )
#1 Maple $10.00
#2 (unframed -kind of a contemporary look) $7.00
#5 Natural Oak $10.00
Be sure to select your ideal color of insert from below for these cases.
#3 half box rough-sawn-cedar (rustic) -$5.00
#4 half box Natural Oak -$5.00
These don't hold Barbie dolls, but are nice little display cases. They have the same chrome clasp as the doll cases.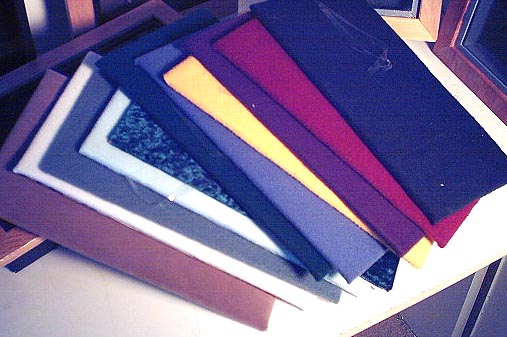 Odds & Ends:
Treasure Boxes: Essentially shadow boxes hand-painted all fancy like and with little feet -to be put on a tabletop or something.

#1 8 x 10" x 3 ½" deep dark oak lines w/ green velvet $15.00
#2 same as #1 but without the fabric lining $11.00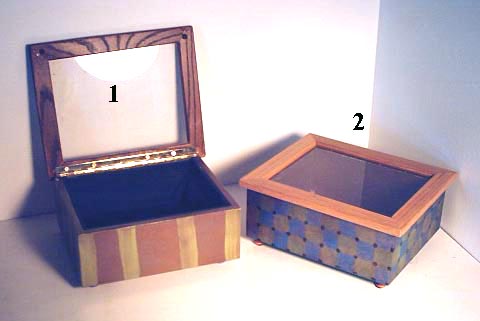 Lots of black flocked jewelry-box inserts. 71/2 x 14" -$1.00 each