How-To Hire CARPENTERS
and Other Usefull Things:
Hey, lets face it, even museum professionals hire carpenters and/or cabinet makers. Here is how to get exactly what you want, and get the most for your money.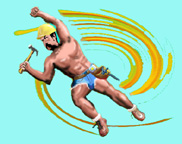 Let's assume you have a pretty clear idea of what you want your display case or display cabinet to look like -(if not, see Building Custom Display Cases), and some idea of how it is to be built and with what materials. Hopefully you have a sketch with some dimensions scribbled down somewhere. You have at least been to the building materials superstore, know what oak boards look like and how much they cost, and maybe even have ordered your doors. Now you need yourself a sawdust maker. The more informed you are about these people, the more likely you are to come out with custom built display cases just exactly how you want, at a reasonable cost, and without nasty surprises. (And I am/was one of them so I can give you the other side of the story)
Let's just get this said and behind us, If you get cheap and greedy, and hire yourself a $10 an hour handyman who mows lawns and who butchers your $100 worth of oak you have gotten what you deserve and I have neither pity nor advice for you. You need yourself a good finish carpenter and had better be prepared to pay $20 to $30 for an hour of one's time if he or she is good enough to cut up your expensive wood. Understand that you are paying not only for a professional, but his tools as well. If you hire a cabinet maker, you are paying for even more expensive -and MUCH more efficient- tools and a shop, so be prepared to go as much as $50/hr for shop time (or a firm bid with installation included.) Just don't let them tell you that their field time, (to come out and install it) is at the same rate. If you are doing a whole room of cases, you might be well advised to hire a contractor. If you are going the route of the cabinet maker or a contractor, and paying the freight for one, you have every right to expect a perfect soup to nuts job, no headaches, a perfect finish, and a perfect installation, (screws into studs not wall board) and need not read the rest of this article.

On the other hand, if your needs are more modest, you need a finish carpenter who moonlights and has either a radial-arm saw (my preference for cutting dadoes), or a table saw (second choice and only if it's a big one), you can save yourself some money -without being greedy. You might ask your neighbors who have remodeled, or call contractors to see if any of their people do side jobs, (and I'd be wary of a contractor who wants,-or needs -so small a job.) You really only need one man for an afternoon or so. Please think about this guy's side of things. He can hardly charge you for the time he spends driving out to see you, talking to you, waiting for you to show up with the materials you promised, etc. etc. and yet one more etc., but his time is spent none-the-less. This is apt to be too small a job to really require a firm bid, but if you insisted, he would probably come up with one. It would include a cushion and you can't blame him for this. Now if you don't trust him to work diligently by the hour and decide you want a bid, can you really trust him at all? Have cash ready to pay him, not a check, and it's none of your darn business if he declares this as taxable income. (I'm sorry to have gone on so long in this vein, but for every horror story homeowners have about bad workers, we in the trades have two stories about homeowners that are even worse.)
So now you have someone who you trust, someone with the necessary tools and talent, and someone who, perhaps most important, understands what you want and how proud you are of your collection. You don't want to spend any more then you have to, and I hope you don't want to waste this poor guy's time either, so how to proceed? Have you gathered up the necessary material or are you paying him to go shopping for you? (You probably ought to let him bring his own preference in fasteners and small miscellaneous doodads.) If your display case has a hardboard back, have you already painted it the color you want it and is it completely day or are you paying him to drive out two or three times to give it various coats of paint? What about the shelves and standards themselves? Who is going to sand, stain and finish them? You probably can hand sand about as efficiently as he can, and, depending on how the joinery works and what sort of finish you are using, he may be able to cut and assemble pre-finished boards with only a little touch-up and filler when it's all done. It's much easier to finish an entire board then it is do it in pieces.

Have you got a space cleared out for him to park his tool truck and do the work? Have you gotten all our fragile, precious gimcracks and whatnots out of his way around where the case gets installed?
Wouldn't it be great if when all was done and said, you felt you could call him back for another custom built display cabinet or display case or some other chore around the house without a moments hesitation some time down the road? Wouldn't it be even better if he would actually be willing to come out when you called? Have you been a customer that he would willingly give up another Saturday afternoon for? Have you offered him lunch? I'm here to tell you that whenever a customer would invest the cost of a sandwich or two in me, I was always delighted to give them any number of those little "While you are here and have your tools out..." for free.


© 1998 Bill Harvey